For September I want to profile two very special individuals who are responsible for giving me the most important gift of all — Life. And of course, I am speaking of my parents, Eugene and Alice Ybarra. Throughout my childhood, my parents provided me many things to be grateful for, but today I want to focus on two of them. The first  is, introducing me to the wonderful world of travel, and the second is their many examples of generosity towards others. By witnessing their many acts of generosity, it taught me how important giving is to help those in need.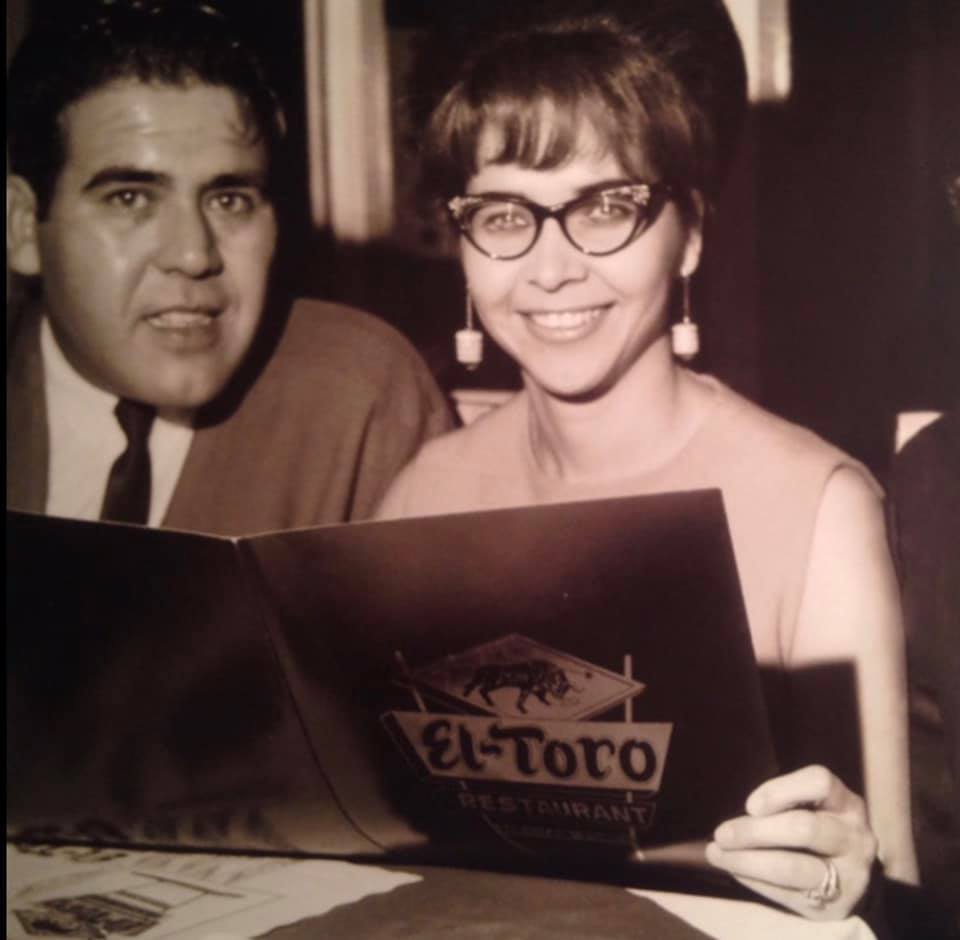 My parents in 1968 at the El Toro in Baytown. (Photo taken by Ted Roggen)
Anyone who knows me knows I love to travel. I first caught the bug when my parents took me and my older brother Victor to Europe when I was only nine years old. It is funny the things you remember as a young kid. For example, when we flew over the Atlantic ocean on a 747 on our way to London, we watched the movie Patton starring George C. Scott. We viewed it on a very small projector screen that was lowered down in coach so the entire section could watch it no matter where you were seated. When we finally arrived in London, our body clocks were so off that we ended up going to bed early. When my mother woke up, she panicked because it was 9:30 AM, and we were going to miss our tour. She rushed into our room to wake my brother and me up, which was extremely difficult…for a good reason! When we finally got dressed and took the elevator down to the hotel lobby to go join the tour group, my mother learned it was actually 10 PM in the evening! There was still so much sunlight it gave the appearance it was morning :).
The soles of my feet literally touched the soil of every European country we visited. For the trip, my mother purchased a brand new pair of shoes for me, which turned out to be a bad idea. After only a couple of days, I ended up getting such terrible blisters on each foot that I wasn't able to wear any shoes for the remainder of the trip. So I ended up walking most of Europe completely barefooted.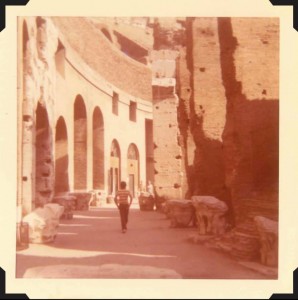 Roaming barefooted through the colosseum in Rome.
That two week period I spent in Europe changed me forever. From the adventures of on that trip and others my parents took me on, I have continued to make travel an important part of my adult life. I've had the privilege of traveling to so many different and beautiful countries like Australia, China, Japan, Italy, France, Russia, Brazil, Argentina, Colombia, Mexico, and more. One of the joys of travel is sharing these experiences with others, specifically, my company's team members. I have had the pleasure of traveling to Pamplona, Spain, four times, for the San Fermin Festival, known as The Running of the Bulls. The event is so incredible that I have taken a different group with me each time! And, each trip is a new adventure as I get to experience it through their eyes.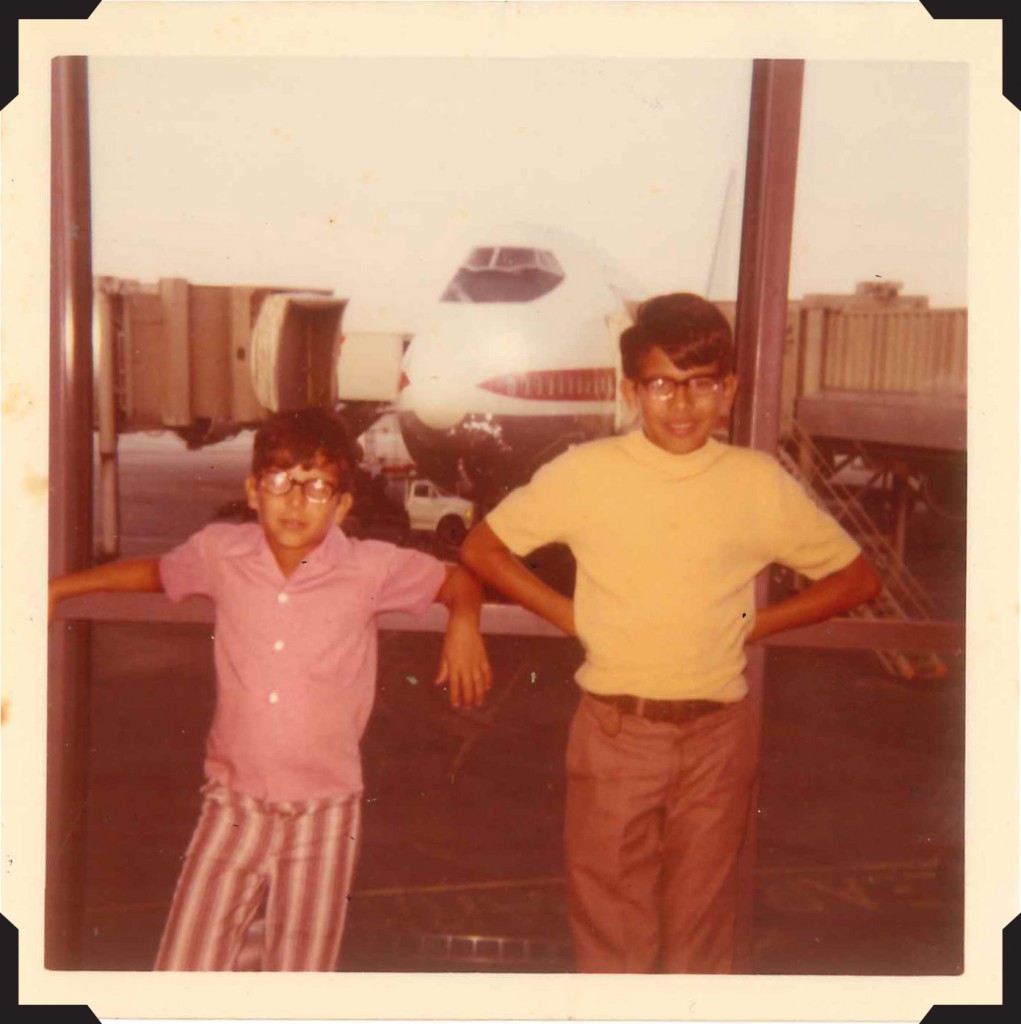 My older brother Victor and I about to hop on a transatlantic flight to London.
Secondly, I am grateful to my parents for showing me the importance of generosity. I didn't realize it at the time, but the seeds of giving that were planted so many years ago, would grow to be a driving factor in the success of Gringo's and Jimmy Changas. I wholeheartedly believe there is power in giving no matter what or how much you give. As in forgiveness, the act of giving is as valuable to the giver as well as to the recipient. 
As a young child in the 70's, I was fortunate to observe many acts of kindness from my parents to others. It was not uncommon to see my parents load their van full of clothes & Spanish bibles and then drive to some of the poorest regions of Mexico to distribute to those in need. Back at home, my parents helped build a couple of churches. In one instance, they donated the land to a local pastor for the first Spanish speaking Baptist church in La Porte, Templo Bautista.  
I believe my father's giving was born from deep gratitude for the support he received throughout his childhood. His parents divorced when he was very young and was raised by a grandmother along with others in his extended family. They were there to help and support him when he needed it most. As a result, once my father grew up, got married, and started a successful business, he ended up helping a few of his close relatives get into the restaurant business as well. He helped his Aunt Lucy Solar open up Laredos Mexican Restaurant in Seabrook, his sister open La Casita in Friendswood, and his Uncle Frank open up a Mexican restaurant in League City. Although my father never told me this, I'm almost sure he did this for them to express his gratitude for everything they did for him growing up.
Another act of kindness that I got to witness my parents do for others took place in 1975. My father, while listening to KTRH, heard about a Houston art dealer, Dianne David, wanting to help relocate and settle Vietnamese refugees in America. Since my parents had already helped several families from Mexico get settled in the United States, they figured why not help these refugees? Considering, the only difference between them and the people they helped from Mexico was they spoke a different language. Even as I write this letter of gratitude, I ask myself, where did these acts of generosity originate? I guess it must have come from the most important part of a human being, the genuine concern for the well-being of others.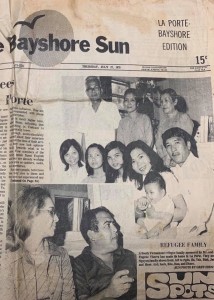 The Vietnamese family my parents sponsored in 1975.
This coming Labor Day marks the second anniversary of my father's passing. In honor of my parents, and as a token of my appreciation for the many examples of generosity, our company recently established the Tex-Mex Legacy Foundation. The Foundation is a way to honor them in the best way I know how by continuing to plant those seeds of kindness and helping those in need. This past July, the Tex-Mex Legacy Foundation, a 501(c)(3), was able to pay for a full dental makeover for a local veteran as well as award (5) $1,000 scholarships to five well-deserving Gringo's and Jimmy Changas team members.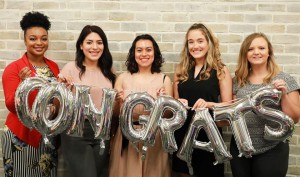 Alexis Tukes, Georgina Arellano, Jennifer Velasquez, Cassidy Clark, Bree Osborne
In Steve Jobs' commencement speech he gave at Stanford University in 2005, he spoke about how you cannot connect the dots in your life by looking forward, you can only connect those dots by looking backwards. So as I connect the dots of my life backwards, I can see the influence my parents had on me, for which I'm eternally grateful. It has given my life meaning and purpose by making our small part of the world, the communities where our restaurants reside, a better place, "One Taco at a Time."