For November, I want to take this opportunity to recognize the brave men and women who serve in our military as well as a very special team member, which is the COO of our company and a great personal friend, Jonathan Kim.
I have a lot of respect for our veterans. I consider the time they serve our country to be such an honorable commitment. How they're able to be away from their families for long periods of time is beyond me. Many of our veterans complete their service and return home to normalcy. Others, unfortunately, will have experienced things that most of us will never have to, and because of it, will experience Post Traumatic Stress Disorder (PTSD). Because of the struggle with PTSD that some of our veterans face, our nation currently loses 20 to 22 veterans a day to suicide. This is unacceptable in my opinion. Since 2008 through 2017 our nation has lost more than 60,000 veterans to suicide, more than were killed in combat during the entire Vietnam war. Let that number sink in for a moment.
Back in 2014, I was asked by my good friend, The Czar of Talk Radio, Michael Berry, to serve on the board of directors at Camp Hope, where he serves as the national spokesperson for the organization. Camp Hope (PTSD Foundation of America) provides interim housing for our combat veterans suffering from combat-related PTSD. I consider it an honor to have the opportunity to give back to our heroes who've already given so much to our nation. Camp Hope was founded in May 2012 by businessman, Gene Birdwell, of Birdwell Construction. Camp Hope is run by an incredible and dedicated staff. Executive Director David Maulsby, and his team of counselors and volunteers, do an outstanding job of creating a sanctuary for any veteran in need of help. Camp Hope's staff is a unique team of combat veterans and pastoral staff who are trained in working with victims of trauma and post-traumatic stress in a caring and positive environment.
When I first got involved with Camp Hope one of the first things I noticed was the residents didn't have a "real" gym to work out in. There was a very small, closet-like area, inside the mess hall that was filled with a lot of donated home gym equipment. When I saw this I knew our veterans deserved something much better. I asked the board of directors to allocate space inside a new building being constructed next door to the mess hall so that Gringo's and Jimmy Changas could help facilitate a new state-of-the-art gym for the residents of Camp Hope.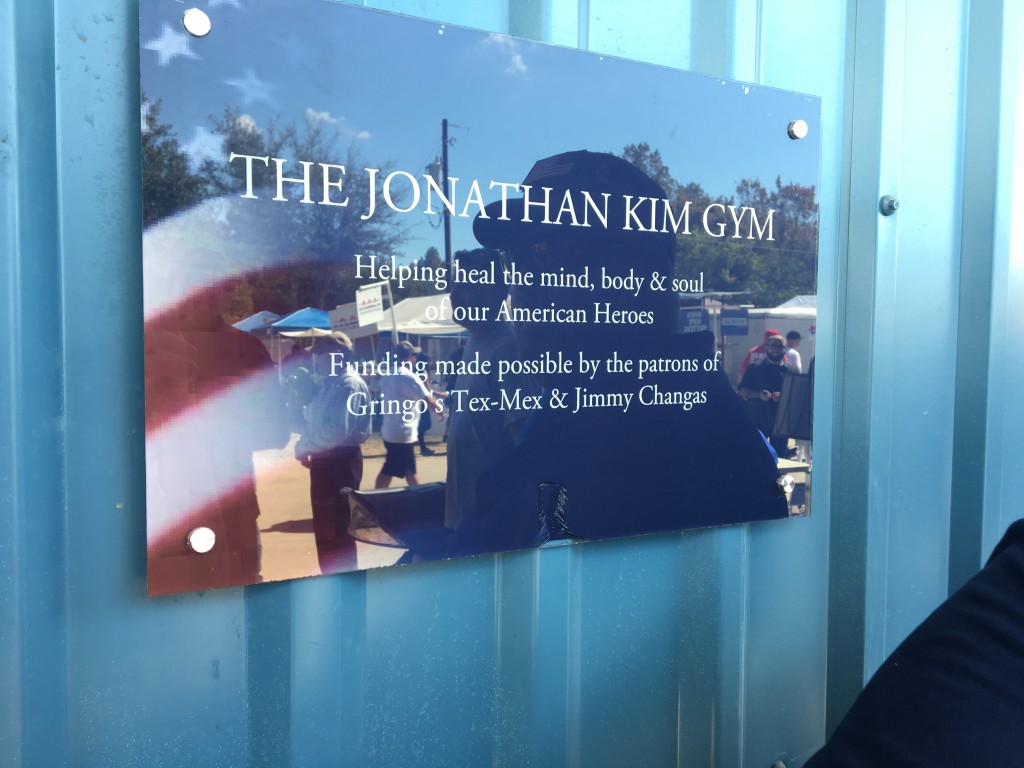 This is where Jonathan Kim comes into the picture, and why I wanted to include him in my gratitude post along with our veterans. There's a saying I heard once – If you want something done quickly, then find the busiest person you know and they'll get it done! Jonathan began immediately reaching out to many of our vendors; Sysco Foodservice, U.S. Foods, Ben E. Keith, Houston Avocado, Martin Food Service, and many others, asking them to consider making a small contribution to the gym project at Camp Hope. Within hours Jonathan was able to raise over $60,000 which allowed us to equip the entire gym with all brand new Cybex equipment. During a BBQ Cook-off fundraiser at Camp Hope we held a ribbon-cutting ceremony in front of the gym and surprised Jonathan by unveiling the name "The Jonathan Kim Gym". He was extremely touched by this recognition.