As I continue my Twelve Months of Gratitude 2019, where I profile special persons who made a positive impact on my career, I want to recognize Larry Forehand for the month of May.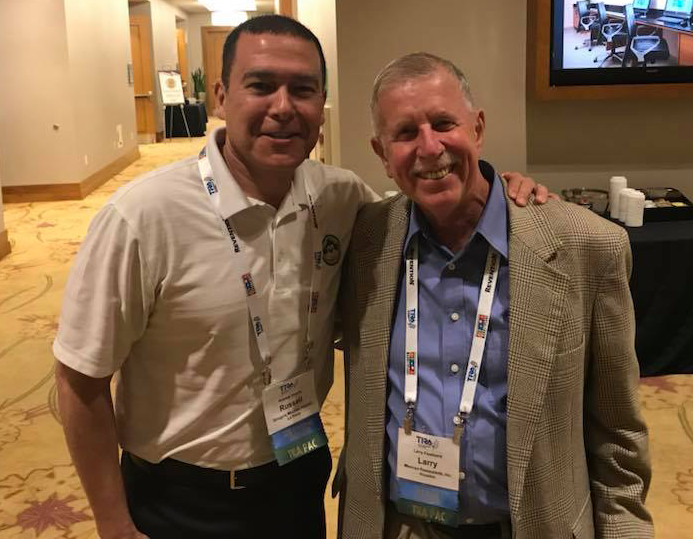 Whenever someone contacts me and asks if I would consider meeting with them to discuss a business idea, I always say – Yes. Since I live in Houston and our corporate offices are located in La Porte, and because we have restaurants located throughout the Houston area, I will always try to arrange our meeting at a location that is convenient for whomever I'm meeting with. My desire to accommodate comes from a personal experience of mine early in my career.
In the late '80s, I made the decision that I was no longer going to remain in the restaurant business and instead focus on growing El Matador Tortilla Company, the company that I helped launch in 1986.  During this time the only restaurants that used tortilla products were other Mexican restaurants. Unfortunately, I had a lot of difficulty selling tortilla products to them because of guilt by association. Meaning, most of the Mexican restaurants I tried selling tortillas to would not buy from me simply because our family owned El Toro Mexican Restaurants. I don't blame them necessarily, that's just the way it was, and I accepted it. Despite that dilemma, it didn't stop me from trying.
Fortunately, there was one particular individual who didn't mind the fact that our family was also one of his competitors and that person was Larry Forehand with Casa Ole. I can remember calling on Larry once from my driveway while sitting in my Mazda B2000 pick up truck requesting an appointment with him so I could show him my product line. I was so nervous talking to Larry that all I can remember is, I didn't have enough oxygen to get the words out of my mouth. I viewed Larry as a celebrity of sorts because he is such a giant in the restaurant industry! I couldn't believe he was willing to speak with me, much less allow me to show him our tortilla product line.
Larry started off in the restaurant industry at age 14 working for Monterrey House as a busboy. He became a manager at age 18 before he was drafted during the Vietnam war. After completing his military service, Larry went back to work for Monterrey House, and in 1973 at age 29 he opened his first Casa Ole on Southmore Street in Pasadena, Texas. At the time, it was one of the busiest Mexican restaurants around. He and his partner Mike Domec grew the company to over 55 locations throughout Texas and Louisiana.
The product I wanted to sell to Casa Ole was our 6-inch flour tortillas that they served alongside their fajita dinners. The equipment we were using to manufacture this particular item wasn't new; we had purchased it used from another tortilla company in Austin because they were setting up a new state-of-the-art flour tortilla line. Although this machine wasn't the best, it did allow us to press up to nine, 6-inch tortillas per cycle, at ten cycles a minute. This was considered a very decent production rate, but that wasn't the issue. The problem was the machine would not press all nine tortillas evenly, they came out different sizes and thicknesses. The oven we used to bake the tortillas was also pre-owned and caused the tortillas to bake unevenly. To make sure that the samples I dropped off to Larry were perfect, I hand-picked them. I know, I know, it was dumb, and it was just a matter of time before that came back to bite me…and it did! After about six months of selling our flour tortillas to Casa Ole, they dropped our account due to, you guessed it, product inconsistency. It was tough losing the account; however, to quote Napoleon Hill ~  "Within every failure is the seed of an equivalent success." In the long run, it was a very valuable lesson because I learned the importance of consistency. Today, a primary focus at Gringo's and Jimmy Changas is to make sure that no matter what we serve, it must be consistent. We are continually evaluating systems & procedures to ensure no matter what we prepare, it will be, at the very least, consistent. For example, one of those systems to ensure consistency includes using custom pre-packaged spice bags, an idea I 'borrowed' from Casa Ole.